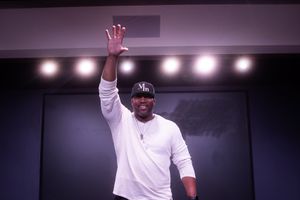 Motivational EDU-Tainer! 
On the journey of life you can be taken for a ride or learn how to take the wheel and navigate to the destiny of your choosing. 
Get inspired by Shaun's journey from his humble beginnings in the heart of Barbados to the mean streets of Brooklyn, NY where he realized the only way he was going to raise himself up to a higher level in life was by joining the military.  Despite the amazing growth he gained from his service in the Army, within three months of transitioning to the civilian world and beginning his new life as a Veteran, he found himself homeless, broke and having the need to make another massive move in his life before it was too late.  Thus began Shaun's transformation into Mister Motivation, and the creation of the 5M's that have not only changed his life but has also impacted the countless lives of those who have heard him speak and taken his five week Wake The Beast course. 
Today, Shaun is a dedicated husband, father, and active member of his community, as well as a successful entrepreneur, author, and educator.  He has been featured on CBS, CNN, ABC, and commended by First Lady Michelle Obama for his work with Teach for America.  His work consist of helping Veterans, who've transitioned from the military, looking to start a new life, motivating youth searching to create a strong path towards their future goals, and guiding fathers hoping to strengthen positive relationships with their children. 
His high-level energy and stylish presentations uniquely combine his music and spoken word poetry into his motivational speeches, leaving crowds of all sizes cheering and shouting for more.  Are you ready to get inspired in a way you have never experienced before?  Are you ready to Wake the Beast in you and your team? 
He is Mister Motivation!  Your Motivational EDU-Tainer!